The Compact-Line Laser Distance Sensor has as Unique Relation Between Minimum Size and Maximum Quality. Small in Size, but Big in Versatility.
Sized smaller than a disposable lighter, measuring only 48 x 40 x 19,5 mm and weighing 55 gr. makes this very compact sensor easy to fit and easy to place.
The Compact-Line use standard USB interface and does not need a separate power supply as it is powered by the USB.
It can also be ordered with RS232 (and 4-20mA or 1-9V analog output) or RS422.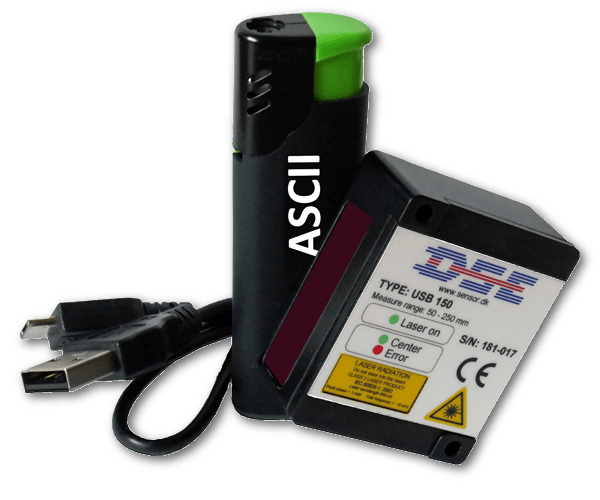 The new Compact-Line series is Optical Distance Sen­sors using advanced laser tech­nique, a line scan camera and digital signal processing algorithms.
The advanced electronic and camera is well protected by a solid aluminum body.
Compact-Line is introduced with three different measurement ranges from 50 to 400 mm).
The sensor uses a standard USB interface for Windows as well as Unix environments.
Cables are fitted with a micro-B connector at the sensor end and a USB-A connector at the other end.
Contact Us For More Information
Binary or ASCII communication over USB
The measuring frequency is 1 kHz and the sensor operate either in BINARY MODE, with 3-byte telegrams, and a nominal resolution of the converted integer number of 0,01 mm, or in ASCII MODE, here a Baud rate of 115200 baud is needed for operating at the full measuring frequency of 1 kHz.
A special feature of ASCII MODE is that by sending a capital "Q" a single measuring value is presented. See Data sheet for further details about specifications and this protocol.

The applications where the Compact-Line sensors can be used are innumerable. They extend from laboratories to food-, medical- and car industry as well as all kind manufacturing – simply wherever a non-contact precision measurement is advantageous.
A few examples where the ODS sensors are being used:
Food Industry, medical industry, laboratories, wood industry, rubber industry and car industry.